Discover the Unique Features of The Time Detective's
History Puzzle in Progress
Dive into an immersive world of historical events and test your knowledge with our unique history puzzle gameplay. Time Detective's challenges you to arrange nine historical events in chronological order, three at a time. With over 500 events in our ever-growing database, there's always a new challenge to tackle.
Original Characters & Storyline
Join Rock Justice, The Chief, Doc, and the newest cadet Ilios, as they work together to stop the nefarious Dr. Know from stealing artifacts and altering history. Our captivating storyline and original characters bring an added layer of depth to your puzzle-solving experience.
Interactive Timeline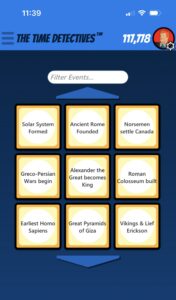 As you complete puzzles, you'll be awarded the events for your personal timeline. Build your collection and learn more about each historical event as you progress through the game.
Bounty Board Challenges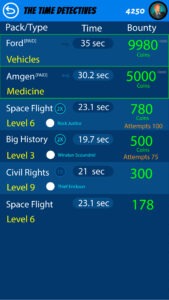 Put your skills to the test with our upcoming "Bounty Board" feature. Compete against other players in time-based challenges, wagering in-game currency for a chance to win big.
Family-Friendly & Educational
The Time Detective's™ is designed to be accessible and enjoyable for players of all ages. The game combines entertainment with education, making it a perfect choice for families, students, and history enthusiasts alike.
Regular Updates & Expansions
Stay engaged with new puzzles, events, and features, as we continuously update and expand the game. From visual enhancements to achievements and more, Time Detective's offers an ever-evolving experience for players.
Download The Time Detective's™ Now
Experience the thrill of The Time Detective's™ and embark on a historical adventure like no other. Download the game today and start your journey through time.